I BOOK!
Bordeaux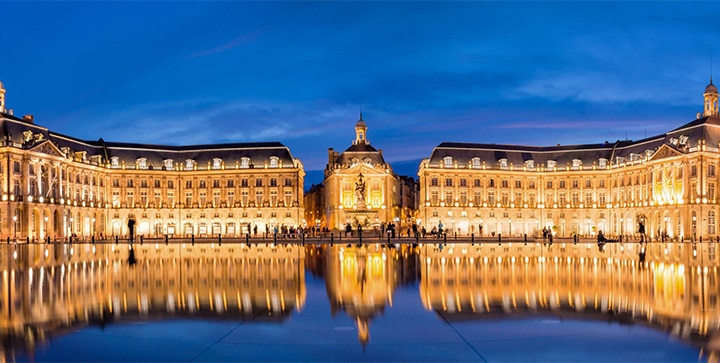 Ranked as the "trendiest" city in the world in 2017 by Lonely Planet, Bordeaux, a sunny city in southwestern France known for its wine, gentle way of life, and proximity to the ocean (60 km from the Atlantic and the Dune of Pilat, Europe's tallest dune at 105 m high), has the ability to charm visitors looking for a change of scenery as well as inhabitants looking for authenticity.
Bordeaux is the sixth largest student city in France, with 130,000 students, 4 universities, 4 university institutes of technology, 12 engineering schools, 9 business schools, 2 higher art schools, and an institute of political studies. The city offers an environment conducive to study and is very dynamic in terms of research (3,000 teacher-researchers and 115 laboratories).
The city's pleasant climate and various parks (Jardin Public, Parc Bordelais, etc.), which are veritable "green lungs", make the metropolis an excellent place to live, and this exceptional living environment extends to its immediate surroundings: the Médoc, the Entre-Deux-Mers, and the Arcachon Bay.
But above all else, Bordeaux owes its worldwide renown to its 119,000 hectares of viticulture and its 60 appellations.
Boasting a vibrant local ecosystem, with 4 competitiveness clusters and a particularly well-developed business network (75,000 companies), Bordeaux is a very dynamic place to work. The Bordeaux craft industry is growing rapidly (3,500 companies), as is the health and biotech sector, which accounts for 26,000 jobs. As for the tourism sector, it is constantly expanding (nearly 7 million visitors in 2018), spurred on by the city's accessibility by train, plane, and car.
At the crossroads of the West and Spain, Bordeaux benefits from an optimal transport network with its 5 motorways, its international airport, and the Saint Jean train station, which puts the city formerly known as "Sleeping Beauty" only 2 hours from Paris thanks to the HSR line. By bicycle or tramway, traffic within the city limits is facilitated by 200 km of bike paths and 44 km of tramway lines (4 lines).
Built on the Garonne River, the metropolis is a major draw, offering a quality living environment. The city appears in the top ranking of places to live, year after year.
The city has been a UNESCO World Heritage Site since 2007, and this is hardly a coincidence: its rich cultural offering (Museum of Contemporary Art, Grand Théâtre, Submarine Base, Cité du Vin, etc.) and exceptional historical heritage (Saint-André Cathedral, Pey Berland Tower, the district Saint-Pierre, the Quays of the Garonne) make it a jewel of the French territory. In Bordeaux, nearly 350 buildings are recognised as historical monuments and listed as world heritage sites!
Bordeaux, an epicurean kingdom? With its markets, gourmet marketplaces (including those located near the Cité du Vin, which host 23 artisan producers), and vast number of restaurants (one for every 285 inhabitants, making Bordeaux the leading city in France in terms of the number of restaurants per inhabitant), the city is positioned as one of the French capitals of gastronomy. You'll find morsels from both France and elsewhere, but especially local fare, which pairs perfectly with the various wines produced in the region.
So come discover the world capital of wine and gastronomy. What are you waiting for?
Our Whoo in Bordeaux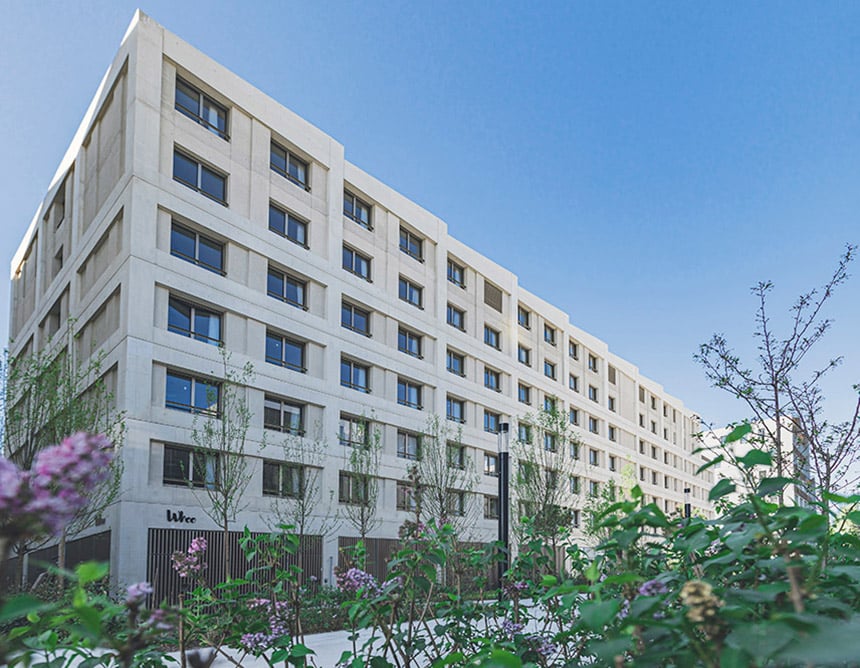 Bordeaux
Bacalan
Come spend a few days or a few months in our hybrid residence/hostel!
Enjoy local food at the Halles de Bacalan, take in the Cité du Vin, or stroll along the banks of the Garonne in the vibrant and trendy Bassins à Flot district.
Opt for a unique experience!